The fast-paced life can take a toll on your health, and it can show! That's why for standout women, being equipped with the essentials to power through the day is a must. Read on for the essential vitamins that every woman needs.
For Her: Nutrients to Help You Through Your Day-to-Day
With deadlines to meet, and demands here and there, women deal with a lot on a daily basis. Now a true standout knows that you don't just dive into the daily grind. Before taking care of things, make sure to take care of your health's needs first. Proper nutrition with these key vitamins can help.

Vitamin A: From beta-carotene, vitamin A is known for its health effects such as better eyesight, firmer skin tissues, and softer skin.

Vitamin B: There is a good number of nutrients that make up B vitamins. But 3, in particular, are important for us: vitamins B6, B12, and folic acid. Vitamin B6 helps for important brain functions, B12 for faster metabolism, and folic acid for a healthy brain and spinal cord.

Vitamin C: Also known as ascorbic acid, Vitamin C strengthens your body's natural defenses making it stronger and protecting you from diseases.

Vitamin D: Vitamin D works as a hormone that helps move calcium and phosphorus into the bloodstream. These minerals are important for bone strength, as an ample supply of this vitamin removes the need for the body to take these minerals from the bones.
Vitamin E for both Beauty and Immunity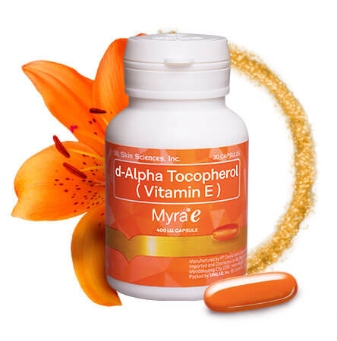 A lot of Vitamin E users take it for its BEAUT-E benefits, but did you know that it also has E-MMUNITY properties? Vitamin E is a powerful antioxidant that increases resistance against sickness. It can also help protect cells from damage. This multitasking nutrient can help boost immunity and help keep the skin healthy. Click here if you want to know more about its overall health benefits.
Why Take Supplements
While a healthy diet may be ideal, the body doesn't get enough vitamins and minerals from food. That's why no matter how healthy your lifestyle may be, it's important to take vitamin supplements that can help meet the higher nutritional demands of your body. Only P12 SRP per capsule.
For your daily source of Vitamin E, take Myra E. Click here to learn more.