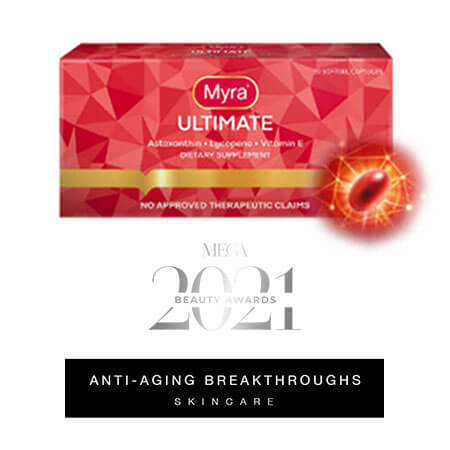 Myra Ultimate with Astaxanthin
The truth is that with age comes change– and it also shows on your skin. Over time, skin naturally loses elasticity, resulting in wrinkles, fine lines, dark spots, and sun damage. By age 40, these signs of skin aging are already visible.
Myra Ultimate is a breakthrough skin supplement powered by astaxanthin, which are pigments called carotenoids from microalgae. This antioxidant helps reduce fine lines and lighten dark spots. Astaxanthin also promotes the formation of collagen, helping to keep skin firm and youthful as you age.
Where to buy
Available in leading drugstores for only Php20 SRP per capsule. Comes in 8s & 30s boxes.
Price
Per capsule – ₱20.00
Box of 8s – ₱160.00
Box of 30s – ₱600.00
Ingredients
Astaxanthin, Vitamin E, Lycopene
How to Use
Orally, take capsule once to twice nightly, or as prescribed by a physician.