Admit it, you can get lazy to moisturize. Some of us—especially those who don't have dry skin—even find this skincare step unnecessary. But did you know that moisturizing is a must for everyone? Here, the reasons why you need to make it a part of your everyday routine.
1. Oily skin doesn't equate to hydrated skin.
Don't confuse oiliness with moisture. Oily skin, especially if you use drying acne treatments or exfoliants, can get very dry. Those scaly patches on your skin are sure signs of dehydration. Choose the right moisturizer formulation for your skin type and you'll have better skin in no time.
2. Cleansing isn't enough.
Whenever we cleanse our skin, we change its natural moisture level and strip it of its natural oils. If your face constantly feels stretched and you see white marks on your body when you scratch your nails on it, it's a sign you need to moisturize and replenish your skin.
3. Your body needs TLC, too.
Skincare doesn't stop at the neck! You may have a wrinkle-free face, but scaly skin on your hands and legs will age you in the same way wrinkles will. Needless to say, the skin on our bodies needs constant hydration. A body lotion with a vitamin E-infused formula like Myra Hand and Body Lotion can prevent dryness and fine lines.
4. Moisturized skin heals faster.
Compared to dry skin, moisturized skin recovers faster from wounds and trauma. So if you have scars from recent insect bites or acne, or if you're pregnant and trying to avoid stretch marks, keep your skin moisturized.
5. Moisturizers avoid premature aging.
We all had healthy, glowing skin when we were babies. Now well into our 20s and 30s, we get exposed to the elements, making our skin look worn out and tired. We can't avoid aging, but we can age gracefully by keeping our skin hydrated and plump.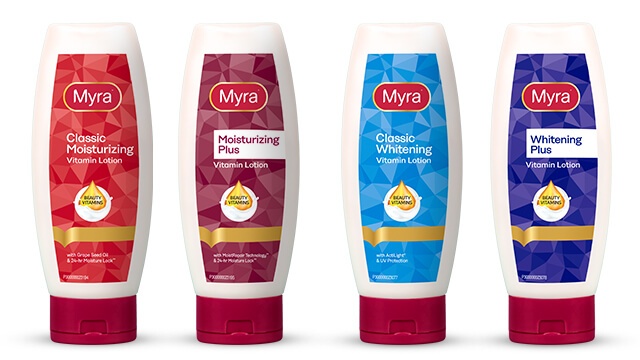 Myra Hand and Body Lotion is infused with vitamin E to give you smooth, glowing skin all over. Add Myra to your beauty routine to have the confidence to be your true self. Get Myra Hand and Body Lotion in supermarkets and drugstores nationwide and on Lazada.
Article originally posted here.