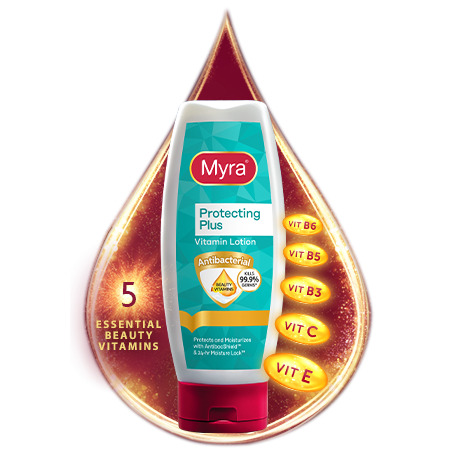 Myra Protecting Plus Vitamin Lotion
The new Myra Protecting Plus Vitamin Lotion protects skin from disease-causing bacteria without leaving it at the mercy of harsh and drying ingredients.
Powered by AntibacShield™ that kills 99.9% germs* while keeping skin moisturized
Has 5 Essential Vitamins (Vitamin E, C, B3, B5, B6) a powerful combination of vitamins that nourishes the skin
Has 24-hr Moisture Lock ™ that rehydrates skin quickly and keeps it moisturized all day
Light and non-greasy feeling making it ideal for everyday use
Hypoallergenic and dermatologist-tested. Paraben and MIT-free.
*Bacterial pathogens
Price
50 mL – P50
100 mL  – P89
200 mL – P160
How to Use
Apply daily, as often as needed, especially on dry areas