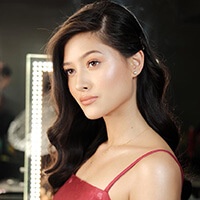 Reminiscing my AsNTM days. I used to be so shy and quiet without a voice. No one would hear me, no one would listen. Still, I decided to make a bold and courageous move by joining the competition despite all my fears and insecurities. I didn't even know what I was doing. All I knew was that I wanted to be confident. I wanted a voice, I wanted to be heard. I'm so glad I didn't back out or give up or else I wouldn't be what I am and where I am right now.
It is always good to step out of your comfort zone. That's what life is about. It's about growing and learning as you go. Take baby steps if you need to but make sure to always move forward. Eventually you'll get
to where you want to be even if it feels like it takes forever.
It's okay to not know what you're doing, it's okay to be judged but just know that only you know yourself the best and only you should decide what to do with your life.  Kaya dapat #GandangWalangHiya ALL the time! — #Myra
- Maureen Wroblewitz, Asia's Next Top Model 2017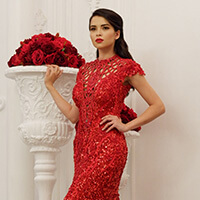 During my first pageant screening with all the other girls, I had to wear a bikini and heels in front of a panel of judges. I can't tell you how nervous I was…all my insecurities about being "too skinny"  and
"too flat-chested" flooded into my mind. To be honest, my fear of not having the "perfect body" had always been a hindrance to me joining pageants having been body-shamed so many times throughout my career. Nevertheless, I was
lucky enough to make it through the screening, and my proceeding pageant journey caused me to learn an extremely important lesson…
There is absolutely NO such thing as a perfect body or even a specific peg for a pageant. "Sexiness" is not measured in inches, it is measured by your self-confidence and the outcome of hard work!
So, I decided to begin loving and nurturing the body that God gave me; by exercising to become fit, sleeping longer hours, and I also stopped comparing myself to the other girls. It wasn't always easy but over time, I started to see not only physical improvements to my body but I could feel both my mental strength and confidence elevating. All of this lead to a victorious coronation night where I TRULY felt bold, courageous and #GandangWalangHiya. #Myra
- Kelley Day, Miss World - Miss Eco Philippines 2019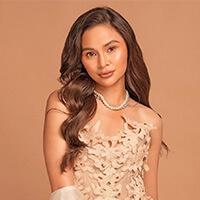 Last year I had a tough time deciding whether or not I should join Binibining Pilipinas… Even though my friends and family were constantly encouraging me, deep down I felt that I didn't have the tools, mental strength, beauty to do well in the pageant.
When I finally joined, the journey was long and difficult. I was constantly exhausted both physically and mentally from the busy schedule and from training, and I was also riddled with self doubt at times.
It was a day by day process and I had to constantly keep positive thoughts in my mind in order to do my best. Even though there were times where I felt doubtful, I overcame them with the mindset that I can do anything I set my mind to. To keep believing in myself; to stay focused, stay committed, and stay empowered.
Fast forward a few months and I ended up placing much better than I thought I was capable of. I overcame so many obstacles and self doubt the day of coronation.
While the experience was tough, I finished feeling validated, beautiful, and feeling a much greater sense of confidence in myself and in my abilities. I hope my story helps you find your strength from within. Just like me, most people start off with little or low self-confidence, but as a result of their own efforts, and perseverance they become bold and brave. The key is to be true to yourself, and to be true to the very best that is in you. Be #GandangWalangHiya. This is the only way to truly learn how to believe in yourself. And – more importantly – never compromise your potential to grow due to self-limiting doubts. Instead, embrace your confidence and believe in yourself because you really can do anything you put your mind to. #Myra
- Jessica Marasigan, Binibining Pilipinas 2019 Top 15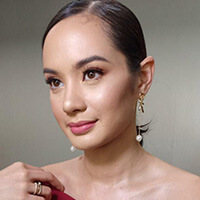 I never thought of myself as someone beautiful. I was always that girl who played with boys as a kid. One day, a friend asked me to walk the runway for his new brand. After that, new opportunities came my way and suddenly, I found myself on an international stage. My #GandangWalangHiya moment was when I accepted the challenge to represent the Philippines in a pageant. I know I'm not perfect but I believe in myself and I know that what I have is enough. 🙂 #Myra
- Kris Janson, Bb. Pilipinas Intercontinental 2014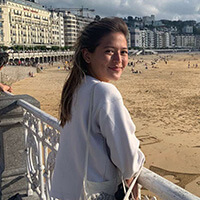 When I was in college I was given the chance to study in Europe as an exchange student. Even though it was just for a while, I had to leave my comfort zone and be #GandangWalangHiya. I had to be bold enough to start a new life abroad. Nonetheless, I took the risk and it helped me have a better view of the world. I became independent and taking that leap of faith really helped become more confident and independent as a woman. It turned out to be one of the most life changing experiences I've ever had. #Myra
- Inez Lebron, Model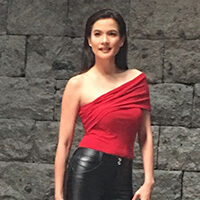 When was the last time you did something for the first time? Happy with my simple decision to be #GandangWalangHiya and live more boldly. So far this year, I put up an Art Fest and also joined a nerve-wracking pole recital both for the first time. Also, I've been spending the last months working on our grand homecoming reunion in November as the homecoming chair. It's a lot of organizing, fund raising and dancing! I had braced myself for some exhaustion given the load of work on top of my full time job and my role as a wife and mom. However, I found myself energized by the inspiring people around me and by my experience of my own personal power. I've also been nourished by my supportive husband, kids, family and friends. Praise the Lord. Say yes to life and life says yes to you! #Myra
- Sophia Chua, Model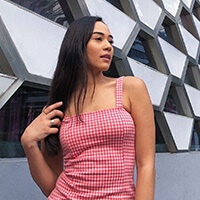 Before I moved to the Philippines to pursue modelling my Dad taught me that confidence is not 'they will like me', confidence is 'I'll be fine if they don't'.
I have learned that being a model means I must deal with rejection on a regular basis – but with enough courage and confidence in yourself anything is possible.
It's important to know what sources feed your confidence – For me, it's my loving family, supportive friends, my thriving modeling and designing career, learning how to act and speak Tagalog and being able to communicate with thousands of beautiful people who are deeply engaged with me online that make me feel #GandangWalangHiya! #Myra
- Marinella Pulitano, Product & Graphic Designer and Model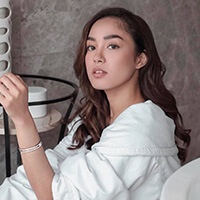 As many other fashion designers, I aim to have my own clothing line. However, I have had this constant struggle. Do I stay true to my style and risk getting untoward reactions or do I make designs in line with the current trend which people will likely appreciate? You'll notice that my style is more on the classic side with a feminine touch. The kind of wear which I believe every woman needs to have in her closet.
One's clothing style is not something that you come up with. I believe that one's style evolves and is closely associated with one's persona. Thus, presenting my designs to the world is identical to presenting myself. Initially, anxiety kicked in. Will people be able to relate with my pieces? Will people be able to relate to me?
The answer? Be #GandangWalangHiya! Be confident and believe in yourself. My designs are mine and my designs are me. They are how I express myself and they are what makes me feel 'me'. And I take pride in being me. #Myra
- Alyssa Laureola, Fashion Designer and Model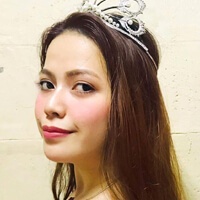 During my college days, I used to be so old-fashioned and I lack confidence. Everytime they see me, they laugh. I don't have many friends at that time because I always feel they wouldn't accept me the way I am. Luckily, I have friends who always helped me build my beauty not only from the outside, but also from the inside. They helped me build my confidence until I am strong enough to stand and to showcase my real beauty to others: my personality.
You can't please everyone. They will judge and hate you. That's what I learned in life. Still, I always choose to be kind and genuine to all. Your personality will describe what kind of person you are. Don't be afraid to be hated and judged. Just focus on improving yourself. Be brave to do what makes you happy and do what you think is right for you. Your beauty is in your own hand. God loves you, kaya go and fight lang. Dapat always #GandangWalangHiya #Myra #BeautyWithAPurpose
- Arci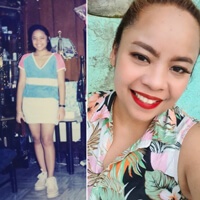 Ever since gradeschool, I always had dark skin like typical morenas. Plus, nag-lalaro ako ng volleyball and I go swimming, so mas lalo nag-darken yung skin ko. I was bullied. They called names like "negra," "anak ng taga Jamaica," etc.
Palaging edited photos ko bago i-post. Oftentimes, naiiyak ako, nag-tatago, hindi nag d-dress, pero laging sinasabi ng tatay ko: "Be confident in who you are. Be true to yourself." It made me feel a lot more comfortable with my skin. Morena man ako, I have the confidence to show my beauty to the world because what's important is, "I am what I am." Ngayon, I can be myself! I am confidently beautiful inside and out. #GandangWalangHiya #MyraE #Morena #Myra
- Gari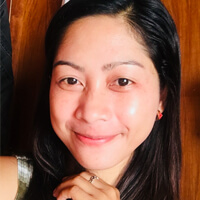 Since college days, I've been an avid user of Myra capsule, Myra Facial Moisturizer, and Myra Hand and Body Lotion. I never put makeup on my face. Even though hindi sobrang kinis ng mukha ko at puro pekas, it's okay as long as always looking fresh pa din sa maghapon. Thank you Myra! #GandangWalangHiya
- Joy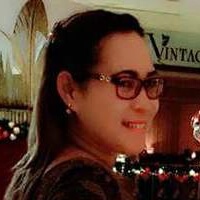 Having a beautiful face and skin are some of my assets. Even if I'm in my 40s, I am not afraid to face those in their 20s because I still have a healthy and beautiful face that most women always wanted. Minsan nga
natatawa na lang ako 'pag sinasabi nila na "We don't believe that your age is 41. You look like 30! How do you maintain that skin?" I just answer them with "Because I am a happy person, and I always take care of my body and
skin. That is my secret and I always put a smile on my face.
- Rowena Maggie Gonzales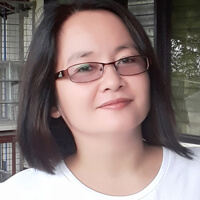 I'm 40 years old, and I am very proud of my age!
- Liza Labrador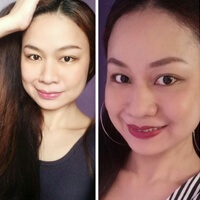 Sabi nila, "A woman may grow older, but still look young," and naniniwala ako d'yan! During my highschool days, sobrang ina-admire ko ang mga classmate ko na sobrang pretty for me, kasi dati hindi ko masyadong naa-appreciate ang physical looks ko dahil sobrang payat ko at ang curly ng hair ko. But now, madaming naka-notice na sobrang laki ng ginanda ko! Especially now that I am already a mom of 3 girls. Wala akong hiya na ipag-sigawan sa mundo na: "Ito ako ngayon, and I embrace my beauty.
Accept who you are and enhance what you have! Dapat #GandangWalangHiya always!
- Grace C.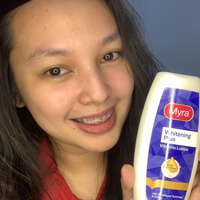 It has always been my dream to have a good looking skin since high school. I was bullied for my skin because of my flaws. I had oily face, dry skin, and pimples. My Lola always told me when she was younger that she would always take Myra daily for her skin, so I said I wanna try it too. I started when I was in my first year in college (2013), and now, I'm happy to say that it's been 6 years of using @myraphilippines. Also, they have this lotion and facial wash which I use.
With 6 years of using MYRA, I definitely have this totally amazing skin! #GandangWalangHiya
Thank you for making this product, Myra! It's always been my bestfriend ️ #AlagangMyraE
- Shaina Mayet Quizo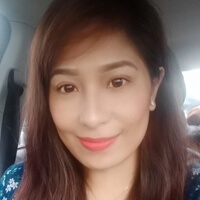 Having my own family at a very young age is very difficult. After I graduated, I became pregnant, and soon got married and started my own family. I thought that it would be just easy as falling in love, but it's not. Lots of adjustments were made, and most of all, I had to sacrifice my wants, especially because I have children. No more malling, gimicks, and luxuries of having this and that. In short, I gave up everything, especially now that I have 3 daughters. But one thing I haven't forgotten is how to care for myself, especially preserving my beauty– except for my battle scars. I've learned that even though you have lots of children, or whether you've started a family of your own at an early age, you should keep yourself pretty and healthy at all times. Not just for the sake of your family, but also for the sake of your self, in order for you to provide their needs. That's what you call self-love.
- Pearl Jam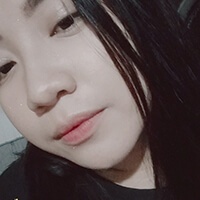 I feel so fresh everytime I use Myra E, at hinding-hindi ako nahihiya humarap sa ibang tao especially my customers, kahit less than 5 hours lang ang sleep ko. When I take Myra E, I always look fresh pa 'rin daw, yung tipong kahit nakaka-stress sa work, di nakikita sa skin ang stress!
- Cristine Maglangit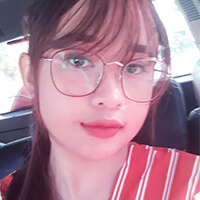 I used to hate public speaking. Noong high school ako, wala akong confidence dahil sa pambubully sakin because I didn't know how to fix my hair nor do my makeup. Noong college na ako, dahil natuto akong mag-ayos at alagaan ang balat ko, nagkaroon ako ng confidence. Kaya with the help of my professor at that time, almost every other day ang speech namin in front of the class, and I managed to gain confidence and my fear started to decrease little by little. Nag-work ako as reservations and booking officer/event coordinator, and noong nagkaroon ng emergency at need na umalis ng emcee, I took over the microphone.
Yes, it was indeed nerve-racking. Although there were approximately 50 people watching me entertain them, including foreigners, naitawid ko naman ng maayos ang birthday party ng aking client. We may not be the best, but we should always think that because of the people who believe in us and because we believe in ourselves, we can have that needed courage and confidence, no matter how hard the situation might be.
- Charm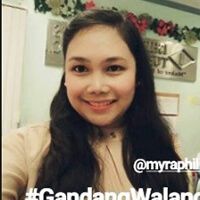 I am 30 years old and a mother of two kids. Knowing that as we grow older, our skin also ages, staying young and having fresh skin matters for us women. We can always take steps to help our skin glowing and healthy and we can protect it by using anti-aging products. As a mom, it is important for me to look beautiful even if I already have kids. Myra E products really do good for me, it helps me stay young and have glowing skin. Thank you Myra!
- Princess Provido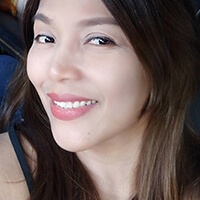 I'm a working mom aged 38 with three kids now. Since I was in college, Myra has been my reliable vitamins and beauty secret. It is my skin care ever since for any stress and battles of everyday work. I am very thankful for having this because it makes me more confident. I salute Myra.
- Medelyn Orani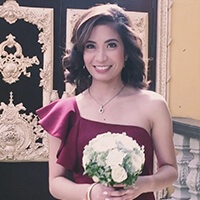 When I was in my first years of college, I usually didn't participate in any activities in our university. It's not because I don't want to, but because I lack confidence in myself. But then I discovered Myra vitamins and it gave me a lot of glow that built my confidence and helped me get out of my comfort zone. Since I am taking Myra vitamins, I also tried using the other products like the Myra Facial Wash and my favorite, Myra Facial Moisturizer. That was the time I joined activities in our university, ran an organization as one of the respective officers, and talked in front of the many with #GandangWalangHiya.
The facial wash and facial moisturizer are packed with beauty vitamins that nourish the skin. Aside from VItamin E, they also have Vitamins C, B3, B5 and B6 that can help your skin feel nourished, glowing, and fresh all day and all over.
I am very thankful to Myra for having these amazing products. It really boosts the confidence of each and every Filipinas. Mabuhay ang Gandang FIlipina! #GandangWalangHiya
- Angel Gesmundo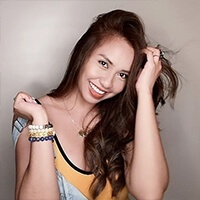 I was the kid who colored outside the lines. I was the teenager who wore colorful sanrios when told to use only black or white hair accessories. I spoke my mind freely, at the dismay of a school that taught their students to be always modest. Don't get me wrong, it was never my intention to appear rebellious. i just knew, even at a young age, that people were supposed to be free to embrace who God made them to be. I was very sure and confident of who I was and what i was made for , until people started to shame, hate, and even bully me for being unapologetically true to myself. They said i was "too much" , "over the top" , "maarte", "always so extra", "too talkative," "too tall", "too everything". Unfortunately, i believed them. People wanted me to "keep it down", and so I've developed some kind of "chameleon mechanism". I always felt the need to shapeshift so others would be comfortable around me. But I started to suffer from Anxiety bec I ended up losing my identity to the versions of me that other people made. Eventually, I realized that enough was enough.
It was time to color outside the lines again! They said I couldn't be a stage actress because I wasn't thick-skinned, but I became one. They said it would be hard for me to become a flight attendant because I didn't have the experience, but God easily sent me to two of the best International Airline companies. They said I couldn't be on TV because I'm not mestiza, but here I am making films and appearing on TV. I even became a model for a skincare line and signed an endorsement contract for skincare and dental clinics. They said I couldn't be a teacher because I don't have the license to teach, but to my surprise, I was also given the opportunity to be a college instructor.
Imagine the life I would have lived if I continued to allow other people's voices to drown my own and dim my sparkle? God decided to create you exactly the way you are. Your DNA and the experiences (good and bad) that molded you, serve a purpose. So don't let anything or anyone abort THAT purpose God Himself designed to be fulfilled by and through you.️
- Dess Versoza, Film, TV, and Stage Actress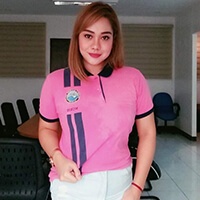 After becoming a single mom that's when all my insecurities came one by one. My first thought was how will I become a good example to my kids. Will I become a good mother, a good provider for them?
But I remembered, I was raised in a family who believes that God wouldn't put you into a situation that you can't handle. My unconditional love for my kids is the main reason why I can say that right now I'm confident that I would be able to raise them in a way I was raised. Loving myself and my imperfections is something I wanted to teach them, and being kind to people even if they don't deserve, is a beautiful legacy to leave behind.
- Djerty Jean
❮
❯
Myra salutes women who are confident in themselves and in their beauty
There's no shame in embracing your own beauty, in being comfortable in your own skin. The only person who can decide that you're beautiful is YOU. And when you are confident in yourself, it can take you places. Dahil kapag naniwala ka sa sarili mo, maganda ang balik sayo.
That's why Myra salutes women who are confident in themselves and in their beauty. Walang hiya? More like #GandangWalangHiya
#GandangWalangHiya
Tips & Stories