WHITE, GLOWING SKIN NA KAPANSIN-PANSIN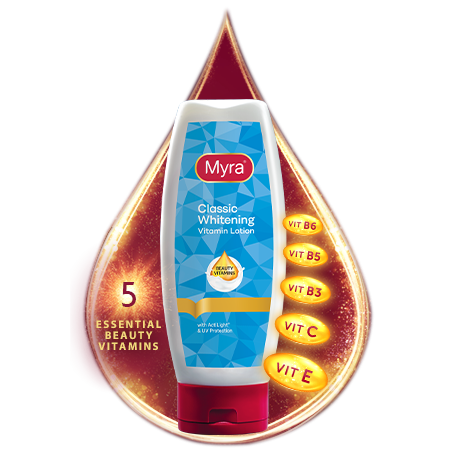 Myra Classic Whitening Vitamin Lotion
The new Myra Classic Whitening Vitamin Lotion is now packed with more Beauty Vitamins (Vitamins E, C, B3, B5, B6):
It has Beauty Vitamins®, a powerful combination of vitamins that nourishes skin.
It has ActiLight® that lightens and evens out skin tone. It also has UVA/UVB protection against sun damage.
Light feel and non-greasy making it ideal for everyday use
Makes skin fairer in 7 days
Has UVA/UVB Protection against sun damage
Price
50mL – ₱60.00
100mL – ₱105.00
200mL – ₱180.00
400mL – ₱321.00
How to Use
Apply daily in the morning, and evening on dry areas.