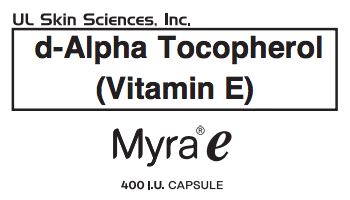 FORMULATION
Each capsule contains:
d-Alpha Tocopherol (Vitamin E)……………………400 I.U.
DESCRIPTION OF THE PRODUCT
This product is an oblong, orange soft gelatin capsule printed with "Myra E 400".
WHAT IS IN THE MEDICINE?
Antioxidants function as scavengers to detoxify free radicals. Free radicals are highly reactive and unstable chemicals formed in the body during normal physiological and biochemical processes such as respiration, metabolism and immune system response.
This product contains d-Alpha Tocopherol, the natural form of vitamin E which has higher biologic activity, stays longer in the blood and is preferentially resecreted by the liver to be utilized by body tissues compared to the synthetic form. Moreover, it can be recycled to its active unionized form, which can be used again by the body.
Vitamin E helps maintain membrane integrity in all cells of the body including the nerve tissues by acting
as the body's fat-soluble antioxidant which acts as the first defense against free radicals in the lipid (fat) phase of cells. It promotes cell and tissue renewal of the skin, heart, lungs, muscles, and liver. It modulates the synthesis of prostaglandins important for the body's immune response. Vitamin E is also involved in the metabolism of nucleic acid and the functioning of the mitochondria which is the main site of energy production in cells.
STRENGTH OF THE MEDICINE
Please see FORMULATION.
WHAT IS THIS MEDICINE USED FOR?
For the prevention and treatment of Vitamin E deficiency
HOW MUCH AND HOW OFTEN SHOULD YOU USE THE MEDICINE?
Orally, one softgel capsule once a day.
Or as prescribed by a physician.
WHEN SHOULD YOU NOT TAKE THIS MEDICINE?
If you are allergic to any component in the product
CARE THAT SHOULD BE TAKEN WHEN TAKING THIS MEDICINE
High doses of vitamin E [i.e., doses greater than 100 mg (equivalent to 149 I.U.) daily of d-Alpha Tocopherol] should be used with caution in patients on warfarin. Monitoring of international normalized ratio (INR) and adjusting of warfarin dose (if indicated) are recommended. Likewise, those with vitamin K deficiencies,
such as patients with liver failure, should be cautious in taking high doses of vitamin E.
Vitamin E should be used with extreme caution in those with any lesions that have a tendency to bleed (e.g. bleeding peptic ulcers), those with a history of hemorrhagic stroke, and those with inherited bleeding disorders (e.g., hemophilia).
High dose of vitamin E supplementation should be stopped about one month before a surgical procedure and may be resumed following recovery from the procedure, or as directed by a doctor.
Do not use more than the recommended dose.
Do not use after the expiry date on the label.
UNDESIRABLE EFFECTS OF THIS MEDICINE
Vitamin E is relatively nontoxic and is usually well-tolerated. Most adults can tolerate 100 to 800 mg (equivalent to 149 to 1,192 I.U. of d-Alpha Tocopherol) daily without undesirable effects. However, the vitamin (e.g., at dosages exceeding 300 I.U. daily) has rarely caused nausea, diarrhea, abdominal pain/intestinal cramps, fatigue/weakness, headache, dizziness, blurred vision, emotional disturbances, and rash. Myopathy (muscle disorder), hypertension, thrombophlebitis (vein inflammation related to blood clot), gonadal dysfunction, breast soreness/gynecomastia, creatinuria (increased concentration of creatine in the urine), increased serum creatine kinase, serum cholesterol, and triglycerides; increased urinary estrogens and androgens; and thyroid problems have also been noted. These effects generally disappeared after discontinuing the vitamin.
Doses of vitamin E greater than 1,000 mg (equivalent to 1,490 I.U. of d-Alpha Tocopherol) daily for prolonged periods have occasionally been associated with increased bleeding tendency in vitamin K-deficient patients such as those taking oral anticoagulants. It has laso been suggested that it may increase the risk of thrombosis in some patients, such as those taking estrogens.
WHAT OTHER MEDICINE OR FOOD SHOULD BE AVOIDED WHILE TAKING THIS MEDICINE?
Vitamin E reportedly may have anti-vitamin K effects; concomitant intake of anticoagulants (e.g., warfarin) and vitamin E may result in hemorrhage (bleeding).
High doses of vitamin E may also potentiate the effects of antiplatelets (e.g., aspirin, clopidogrel, ticlopidine) and herbs with antithrombotic activity such as garlic and ginkgo.
Vitamin E may enhance the side effects of some drugs (i.e., amiodarone, ciclosporin, and zidovudine).
Vitamin E may reduce the requirement for digoxin and/or insulin. Monitoring is recommended.
Orlistat may result in decreased vitamin E absorption. Therefore, orlistat should be taken two hours before or two hours after vitamin E administration. Other drugs that may interfere with absorption/ utilization of vitamin E include colestyramine, colestipol, isoniazid, mineral oil, neomycin, and sucralfate.
Anticonvulsants (e.g., phenobarbital, phenytoin, carbamazepine) and/or oral contraceptives may lower plasma levels of Vitamin E.
Dietary fiber supplementation may decrease the antioxidative effect of a supplement containing vitamin E (alpha-tocopherol).
WHAT SHOULD YOU DO IF YOU MISS A DOSE?
If you miss a dose, just take the next dose and the subsequent doses at the usual recommended schedule, i.e., once a day.
Do not double the dose.
SIGNS AND SYMPTOMS OF OVERDOSE
There are no available data on acute overdosage with vitamin E.
However, large doses (>1,490 I.U. daily for prolonged period) have occasionally been associated with side effects (see UNDESIRABLE EFFECTS OF THIS MEDICINE).
WHAT TO DO WHEN YOU HAVE TAKEN MORE THAN THE RECOMMENDED DOSAGE?
If you have taken more than the recommended dosage, consult a doctor.
HOW SHOULD YOU KEEP THIS MEDICINE?
Keep the product out of sight and reach of children
Store at temperatures not exceeding 30oC
Protect from light
WHEN SHOULD YOU CONSULT YOUR DOCTOR?
If any undesirable effect occurs.
If you are pregnant or think you may be, or are planning to become pregnant, or are breastfeeding. The effects of high doses of vitamin E during pregnancy and breastfeeding are not known.
Manufactured by
PT Darya-Varia Laboratoria, Tbk.
Gunung Putri, Bogor, Indonesia
and
Belmont Softgel Pharma Corporation
Floridablanca Interchange, SCTEX, San Jose, Floridablanca, Pampanga, Philippines
Imported and Distributed by UL Skin Sciences, Inc. No. 132 Pioneer St., Mandaluyong City 1550, Metro Manila, Philippines
For suspected adverse drug reaction, seek medical attention immediately and report to the FDA: www.fda.gov.ph and UL Skin Sciences, Inc. at [email protected]. By reporting undesirable effects, you can help provide more information on the safety of this medicine.
DR-XY47019: d-Alpha Tocopherol (Vitamin E) [Myra E] Foil Strip
DATE OF FIRST AUTHORIZATION: 17 August 2020
DATE OF REVISION OF PATIENT INFORMATION LEAFLET:
DR-XY47018: d-Alpha Tocopherol (Vitamin E) [Myra E] HDPE Plastic Bottle
DATE OF FIRST AUTHORIZATION: 17 August 2020
DATE OF REVISION OF PATIENT INFORMATION LEAFLET (PIL):
DR-XY29292: d-Alpha Tocopherol (Vitamin E) [Myra E] Foil Strip
DATE OF FIRST AUTHORIZATION: 05 January 2004
DATE OF REVISION OF PATIENT INFORMATION LEAFLET: July 2018
DR-XY29743: d-Alpha Tocopherol (Vitamin E) [Myra E] HDPE Plastic Bottle
DATE OF RENEWAL OF AUTHORIZATION: 08 July 2004
DATE OF REVISION OF PATIENT INFORMATION LEAFLET (PIL): July 2018